Live Streaming Software with Video Switcher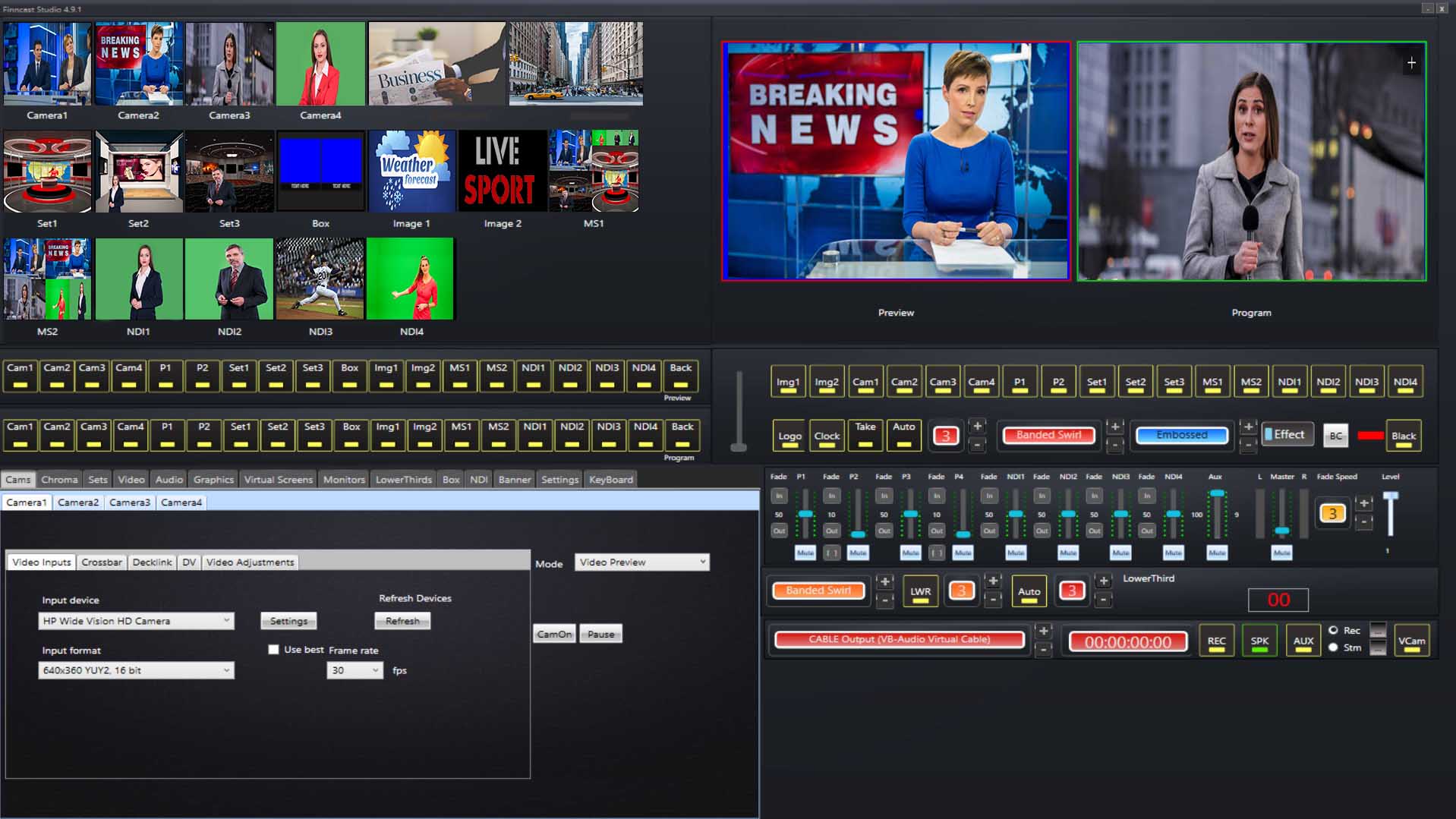 Everything in one package.
Finncast Studio is an all-in-one solution for live video production & live Streaming over the internet. Our software is designed to broadcast live using your own computer. Everything you need is available in Finncast Studio without needing lots of external hardware. With a good graphics card in your computer you are ready to go.
Features in Finncast Studio
4 Camera inputs
4 NDI inputs for cameras and NDI devices
4 Live Skype Callers simultaneously
2 Video Players /Can play YouTube videos
View Lives streams such as IP cameras etc. protocols UDP, RTP, RTSP, MMS, and HTTP
2 Audio Players
3 Virtual Sets with changeable Studios
Video switcher 35 transitions
Box Side by Side
Picture in Picture
Auto Pan & Zoom Cameras Virtual Sets, NDI
Green/Blue & Red Screen Chroma Keying
4 Virtual Screens With Switcher
Lower Thirds Editable on the Fly
5 External Monitor Switching
Recording
Live Streaming to Facebook, Youtube & more
Multi Downstream including clock & logo
Built-in Audio Mixer
Scrolling Banner Text
View Lives streams such as IP cameras etc. protocols UDP, RTP, RTSP, MMS, and HTTP
Take live video snapshots
Multi masking of face with blur
2 Custom MultiViews
Custom Keyboard Configuration
Compatible with X-Keys
Virtual Camera output
Custom Keyboard Configuration
Compatible with X-Keys
Testimonials
Professional Spokes person