Video switcher
Everything you need in one package for Video Production with built-in Video Switcher & Virtual Sets pretty awesome ...
FinnCast Studio
Full Studio only $99
Video Production Software
Rated
5
based on
18965
customer reviews
Intro Video
4 Camera inputs
2 VLC Video Players
2 Audio Players
3 Virtual Studios with changable Sets
Box Side by Side
Multi Camera View
Picture in Picture
Auto Pan & Zoom Cameras & Virtual Sets
Green/Blue & Red Screen Chroma Keying
Video switcher with 35 transitions
4 Virtual Screens With Switching
Lower Thirds Editable on the Fly
5 External Monitor Switching
Recording
Live Streaming
Multi Down Stream including clock , logo.
Built-in Audio Mixer
Scrolling Banner Text
Take live video snap shots
Multi masking
Multi View All on a single monitor
Virtual Camera
Finncast Teleprompter
only $29
Telprompter Software
Rated
5
based on
189109
customer reviews
Intro Video
Professional TV Presenting
Speech Reading
Live lectures
Live Events
Loads rich text documents
Speed up slow down scrolling easy
Load your read document and press play
Full keyboard commands
Can be controlled by media remote control
Flip text Vertically / Horizontally
Video production
Finncast is a video production software with everything you will need in on package. It eliminates so much traditional equipment as it has a built-in video switcher with 35 transitions, green screen removal, built-in Lower thirds editable on the fly. 2 video & 2 audio players with audio mixer. 4 video inputs for cameras and other devices. It even has 3 independent virtual sets that are powerful and realistic with changeable sets. It has full recording to local or remote disk and live video streaming to any streaming website or server including YouTube Live, Facebook Live, VK, Twitch and so many more. Scrolling text from file or rss feeds is included as standard. We suggest you watch the tutorial videos Here to see exactly how amazing Finncast really is. Who would use Finncast? Anyone involved in making videos or live broadcasts. Are there monthly or yearly subscription fees? No, you purchase once and it is yours. Open broadcaster software for professionals.
Live Video Streaming recommeded computer to use
Minimum Computer Specification Windows x64 7 / 8 & 10 CPU Dual Core 2.0GHZ 4 GB memory, Graphics card Minimum Resolution 1920x1080 with own GPU and dedicated memory 1GB.
Recommended Computer Windows x64 7 / 8 & 10 CPU Quad Core 2.0GHZ, 8 GB of memory, Graphics card Minimum Resolution 1920x1080 with own GPU and dedicated memory 2GB. The better the computer specification the better the performance.
Video Capture Cards / Camera Connections
Webcams
FireWire
USB 3.0 HDMI
Blackmagic Web Presenter
Blackmagic USB Shuttle
Blackmagic Decklink Studio Pro 4K cards
Yuan 4 input 4K HDMI; 4-channel 4Kp30 capture card, SC560N4 HDMI
AJA Kona 3 cards
Most Video Capture cards that support YUY2 format
Stream to any server & pre intstalled sites
YouTube
FaceBook
Twitch
VK
Ustream
VaughnLive
Stream Spot
Scale Engine
Many More
Tutorial Videos
This video will show how our Live video streaming software works
Watch our tutorial videos on using Finncast
Demo Video
Recent Posts
Finncast Version 4.5 big upgrade with 4 NDI inputs, up to 4 live Skype Callers and More...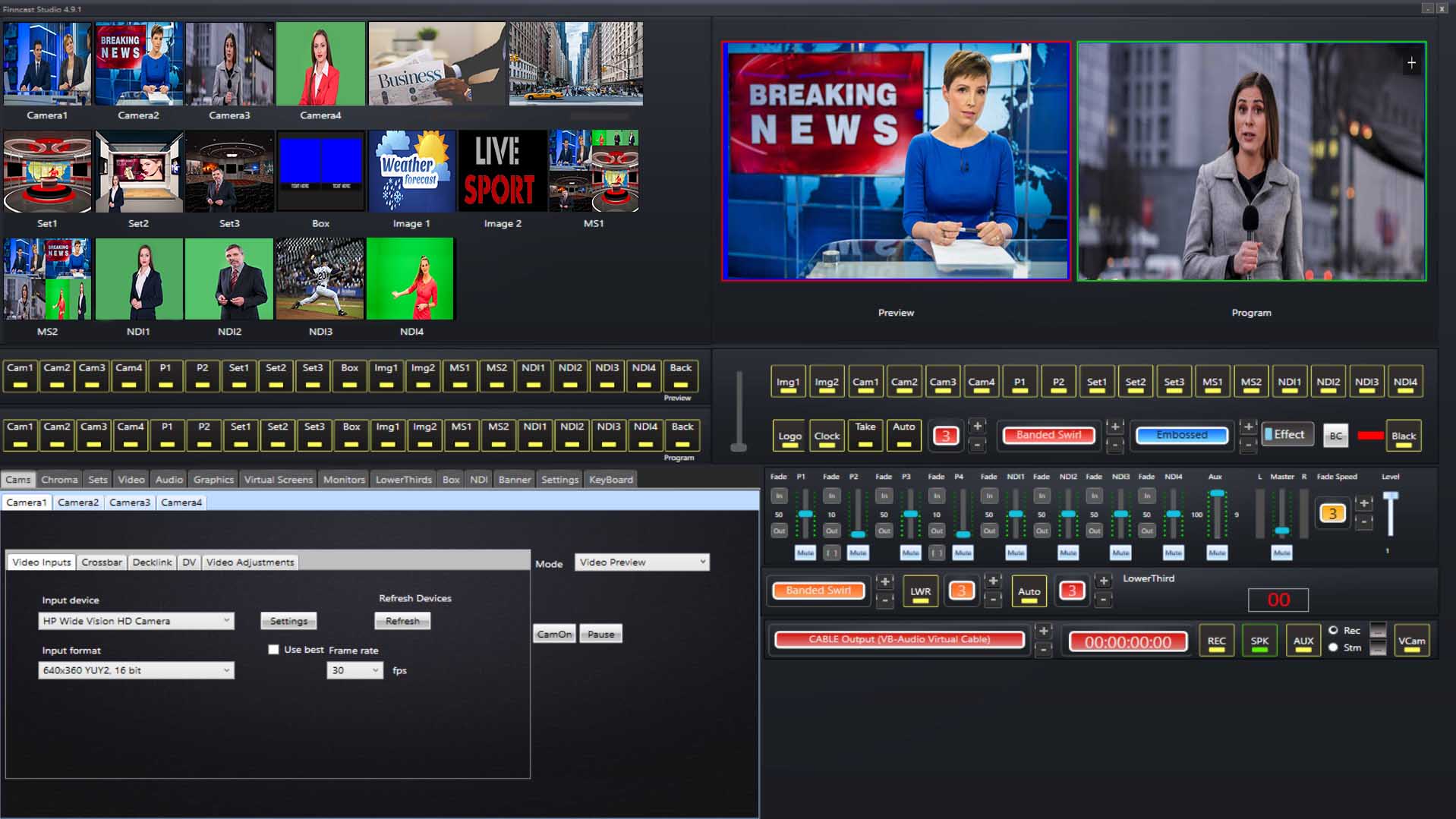 Finncast Version 4.9.4